The History of Texas Hold'em Poker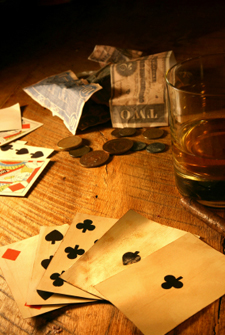 No one really knows exactly where Texas hold 'em poker was invented but the Texas State Legislature officially recognizes Robstown, Texas, United States as the place where the game originated back in the early 1900s
The game's introduction to Las Vegas was in 1967 by a group of Texan gamblers and card players, including Crandell Addington, Doyle Brunson, and Amarillo Slim.
For many years the Golden Nugget Casino in Downtown Las Vegas was the only casino in Las Vegas where the game could be played. Apparently at that time, the Golden Nugget's poker room was "truly a 'sawdust joint,' with…oiled sawdust covering the floors." Because of its location and decor, this poker room tended to put off the wealthy professional clients and as a result, professional players sought a more desirable location. In 1969, the Las Vegas professionals were invited to play Texas hold 'em at the entrance of the Dunes Casino on the Las Vegas Strip. (This casino has now been demolished) This prominent location, and the relative inexperience of Texas hold 'em poker players and that time, resulted in rich pickings for the professional players.

There was an attempt to establish a "Gambling Fraternity Convention," by Tom Moore but after this failed, he managed to add the first ever poker tournament to the Second Annual Gambling Fraternity Convention held in 1969. This tournament was to feature several games including Texas hold 'em. In 1970, Benny and Jack Binion managed to acquire the rights to this convention and give it a new name: 'The World Series of Poker', and they also moved it to their casino, Binion's Horseshoe, in Las Vegas. After its first year, a journalist, suggested that the main event of this tournament should be no-limit Texas hold 'em. The Binions agreed and ever since no-limit Texas hold 'em has been played as the main event. Over the next two decades, interest in the Main Event continued to grow steadily and although there were only eight entrants in 1972, the numbers grew to over one hundred entrants in 1982, and over two hundred in 1991.
Interest in Texas hold 'em poker outside of Nevada began to flourish in the 1980s as well. California already had legal card rooms offering draw poker, but Texas hold 'em was prohibited under a statute which made illegal the (now unheard of) game "stud-horse". In 1988 however, Texas hold 'em was declared legally distinct from "stud-horse" in Tibbetts v. Van De Kamp, 271 Cal. Rptr. 792 (1990). This meant that almost immediately, card rooms across the state offered Texas hold 'em. It was bookmakers Terry Rogers and Liam Flood who after a visit to Las Vegas, introduced the game to European card players in the early 1980s.